The purpose of this website: helping you learn to play the piano.  Building a strong foundation of piano-playing skills will lead to a lifetime of piano-playing joy.
---
Carol Of The Bells: You can learn it!
"Carol Of The Bells" is a really fun piece for piano students of all ages and abilities. The version used here, both in notation, and on video, is easily accessible for beginners, fun for intermediate players, and even amusing (quick and easy) for advanced players.  Of course, as you grow and improve as a pianist, you will someday find yourself capable of playing more advanced-level arrangements (there are many of these) of this piece.  But for the elementary-level pianist, this arrangement is fun and sounds like real piano music.
To learn this piece, print out the music, put it up in front of you, then watch the video.
You will be learning each phrase with the right hand, then with the left hand, and then with both.
Take it slow, and work on each phrase until it is memorized. As you learn each phrase, play them one after the other. This method of learning and memorizing at the same time is one which every piano player should employ with piano pieces they like. It is different than the more common method which is to learn the piece first, and then play it over and over until it is "memorized". By learning and memorizing at the same time, you will not rely so heavily on tactile memory. Not only will your hands "know" the piece, but your mind will also.

By learning and memorizing each phrase of this popular Christmas tune, you will be able to play the whole piece without getting lost, and without having to "restart" if you make a mistake.

Once the whole piece is memorized and playable, you should use your metronome to work on a steady tempo, and then work on getting faster. This piece sounds good at a whole range of tempos from 60 bpm to 160 bpm. You should play it as fast or as slow as you can play it comfortably.
Once you have the piece flowing nicely, without pauses and with a steady tempo, you will want to make sure you are shaping it musically. You will notice that the dynamic markings suggest starting soft and building up to a climax  on the 6th phrase, and then coming down again. Give it a try!
Good Luck!
---
For a more complete understanding of how to build your piano-playing foundation,  read
For the most direct, organized, and progressive path to learning to play the piano, start
the Piano Skills Foundation series of piano lessons.
---
---
Carol Of The Bells music notation:
COTB music notation (page 1)
COTB music notation (page 2)

---
the video(s)
Part 1:

---
Part 2

---
Part 3

---
-click here for more about this song-
---
---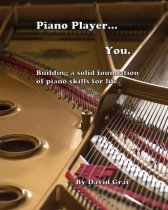 If you want to see a blueprint for a successful piano journey...


read

 


"Piano Player... You"
A guide to building a solid and complete piano-playing foundation.
-Click here to learn more about this e-book-
---
If you would like a step-by-step guide to help you on your piano journey...
start working through
"The Piano Skills Foundation" piano lessons
-Click here to learn more about this piano course-
---
---
return from "Carol Of The Bells" to "free piano lessons"
---
Looking for some piano music?
I have found Sheet Music Plus to be a fantastic resource for piano books & other materials.  And they have instant digital downloads for thousands of individual pieces.
---
---
Need A Metronome?
Here's the metronome I prefer to use for practicing the piano:

(Clicking on the picture will take you to the "Musician's Friend" website. A new window will open.)
---
3 Ways To Support This Website
If you enjoy using true-piano-lessons.com and would like to help support it:
1. Buy the ebook, "Piano Player... You"
2. Purchase "Piano Skills Foundation"
3.Donation