Teach Yourself Piano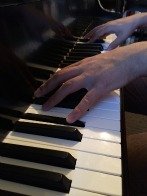 You can teach yourself piano as long as you have time, motivation, persistence, and patience.  If you are dedicated to the task and devoted to consistent practice over the period of several years, you will be able to build your skills and knowledge to a level that will allow you to play whatever you want to play at the piano.  
But, don't think it's going to happen over night, or with just a few weeks or months of effort.  There are no tricks or gimmicks that will allow you to "skip to the end".  Learning to play the piano is a journey that starts with several years of practice and then continues for the rest of your life.  So make sure you go into it with the understanding that it is all about enjoying the journey.  Always keep your eyes on the present task at hand and savor it as you work.
I hope that you will be able to find much of what you need to get going right here at this website.  For a beginner, everything you need is right here, including links to the music-reading books that I recommend.  You will find plenty of "tunes" to get your hands on the keys with, along with beginning exercises.  There will also be piano pieces to learn along the way, and plenty of ideas on how to practice.
If you are really going to teach yourself piano, you may want to read my ebook "Piano Player... You" (see the link below, or on the navigation bar).  If you do, you will have a much better understanding of what you need to do and how to do it.  Plus you will be even more motivated and encouraged to do follow through.  You will also know how to utilize this website more effectively.
Even before you read the book, you can get started with some exercises and tunes using the videos and links on this page.
Good luck... and have fun!
---
For a more complete understanding of how to build your piano-playing foundation,  read
For the most direct, organized, and progressive path to learning to play the piano, start
the Piano Skills Foundation series of piano lessons.
---
---
Teach Yourself Piano: first, some basic stuff
You should start with this video, which covers how to sit and hold your hands on the keys:
---
Next, a basic exercise & some chords & arpeggios
You need to get your hands on the keys, playing... so these three videos will get you started:
-click here for the music notation-
---
Now, a tune ("You Are My Sunshine") to get you playing
-click here for the music notation-
---
Better yet, a whole "progression" of tunes for learning
The "Free Piano Lessons" page offers the complete series of 17 tunes for beginners, including tab and music notation for each.
---
Explore the other basics:
Here are a few of the other basic things you may want to get started on:
---
More about piano pedagogy:

Here's Wikipedia's very informative page on piano pedagogy.
---
---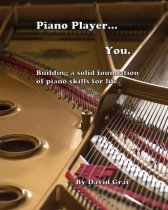 Serious about playing the piano?

Read

Piano Player... You
A guide to building a solid and complete piano-playing foundation.
-Click here to learn more about this e-book-
---
---
Looking for some piano music?
I have found Sheet Music Plus to be a fantastic resource for piano books & other materials.  And they have instant digital downloads for thousands of individual pieces.
---
---
Need A Metronome?
Here's the metronome I prefer to use for practicing the piano:

(Clicking on the picture will take you to the "Musician's Friend" website. A new window will open.)
---
3 Ways To Support This Website
If you enjoy using true-piano-lessons.com and would like to help support it:
1. Buy the ebook, "Piano Player... You"
2. Purchase "Piano Skills Foundation"
3.Donation