The purpose of this website: helping you learn to play the piano.  Building a strong foundation of piano-playing skills will lead to a lifetime of piano-playing joy.
---
True piano lessons provide a life-long
journey of joy. Are you ready?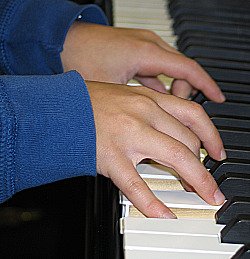 Welcome to True Piano Lessons.com.  Thanks for visiting.  With this website, you will have an ever-growing hub of resources to help you develop your piano-playing skills.  If you are truly interested in learning how to play the piano and want to know how to go about it, you have come to the right place.  
Here you will find the most fundamental building-blocks of a piano player's foundation including notes on the music staff and detailed keyboard diagrams. All of the scales and chords have music notation, tab (if you are not yet a music-reader), fingerings, and video tutorials.  You will find a lineup of 17 "tunes" (also see Free Piano Lessons below) for pianists just getting started, or anyone just wanting to learn some melodies.  You will find ideas for music reading, piano music resources, and how to practice.  
If you are a brand new beginner, and you are ready to get started immediately, click here ("free piano lessons") or here ("piano exercises for beginners") now and simply follow the instructions. New!: If you are serious and are ready to commit to the journey, click here ("Piano Skills foundation" series of piano lessons.)  
Keep in mind that this is a long journey. No tricks or gimmicks are going to make you a piano player.  You need to see the path, commit to the path, and practice, practice, practice... Good Luck!
---
What You Need To Play The Piano

(If you are serious about playing the piano)
---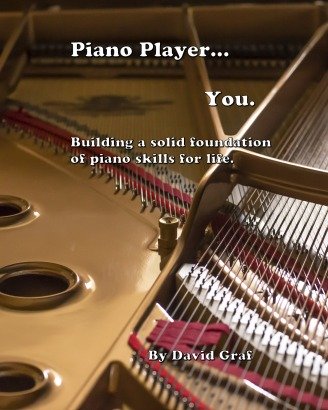 You can only buy two things at this website: Piano Player You and the materials for Piano Skills Foundation.  Everything else is free.
Piano Player… You is the ebook in which I condensed all that I've learned in 21 years of piano-teaching into a guide for building a strong foundation of piano-playing skills and knowledge.  The book is for anyone who really wants to learn how to play the piano but is not quite sure what the process entails.  Through reading the book, your piano path will become very clear to you.  (The book would also be very helpful for anyone looking for ideas on how to teach piano to others.)
Piano Skills Foundation is the new video lessons series designed to help you build your foundation of piano skills step by step, practicing through an organized and progressive program of technique exercises, tunes, reading exercises, and piano pieces.
Read the book to learn the blue print, and then start working through the lessons to begin building your foundation!
---
table of contents for True Piano Lessons:

The ebook that lays out the comprehensive plan for your piano journey.  A bird's-eye view of the path you can take becoming a confident, competent piano player.
The series of piano lessons that will take you from ground zero and help you work, step-by-step, up to higher and higher levels in the most important areas of piano skill.
Learn how to play the piano using step-by-step free tutorials. The lessons are fun, informative, easy-to-follow, and effective.

Piano scales made understandable and playable. Notes and fingerings, as well as help in practicing and progression of learning.
Learn piano chords using staff notation, tablature, fingering, and keyboard images.
Piano Notes, On The Keyboard & On The Staff
Piano notes illustrated on the keyboard, and on the staff. Learn to recognize the piano notes.
Learn the basics of reading music on the piano. Notes, clefs, rhythm and tips on methods and how to practice.
Learn how to play the piano by following this plan. An overview of a piano player's development.
Learn how to practice piano for technique, reading music, and memorizing music. Develop an effective routine.

A list and review of piano music books which are highly successful for teaching and learning piano.

A foundational plan for teaching piano.
The blog keeps you up-to-date on additions and changes to the true-piano-lessons.com website. Subscribe here.
All the music for this website can be found here.
---
---
Who I am and what qualifies me to help you.
My name is David Graf and I love playing and practicing the piano.  You will not find my name on anyone's list of great pianists, for I have never been one.  As a child I was drawn to the piano because I was amazed what people could do with it and I wanted to be able to do that too. 
Lacking any real prodigious talent, I struggled mightily but stuck with it through the years.  As a high school senior, I auditioned and was accepted (even managed to earn a scholarship) into the music school at the University of Colorado, Boulder.  I practiced like crazy and came out with both a bachelor's degree and a master's degree in piano performance.  
Since then, I've discovered that my passion for practicing and playing the piano is eclipsed only by my passion for teaching, which I've been doing for almost 22 years now.  (Married to my college sweetheart, living happily with our 2 energetic kids in Centennial, Colorado.)
As a piano teacher, my goal for every student is to build a solid foundation of piano-playing skills and knowledge with which to enjoy practicing and playing the piano for life.  Through their piano lessons, my students all learn that the key is to know how to practice and to have fun practicing.  With a combination of hard work and taking pleasure in the hard work, along with persistent and consistent effort over time, they all reach high levels of ability over a period of years.
Most of the kids I teach stay with it from elementary school through high school.  The high school seniors play well enough to audition for college music programs, if they're crazy enough to do so (most are smart enough to choose a more practical college path).  My adult students quite often stay with it all the way into advanced-level piano music, reaping the rewards of persistent enjoyable practice over the years.
I specialize in helping average people become above average piano players.
I hope that with this website, you may enhance your piano journey and develop piano-playing skills which will allow you to enjoy practicing and playing for years to come.
---
---
Looking for some piano music?
I have found Sheet Music Plus to be a fantastic resource for piano books & other materials.  And they have instant digital downloads for thousands of individual pieces.
---
3 Ways To Support This Website
If you enjoy using true-piano-lessons.com and would like to help support it:
1. Buy the ebook, "Piano Player... You"
2. Purchase "Piano Skills Foundation"
3.Donation