The purpose of this website: helping you learn to play the piano.  Building a strong foundation of piano-playing skills will lead to a lifetime of piano-playing joy.
---
The Music Library For True-Piano-Lessons.com
This Music Library contains all the pieces you can find on this website. The True-Piano-Lessons.com music selection offers all multi-page PDF or PNG files which are easily downloaded and printed. This listing will be continually updated as new pieces are added.
[At the bottom of the page, you will find a link to 2 libraries with extensive music selections form all over the world, which can be a fantastic resource for finding scores and recordings for all kinds of great music.  If your intentions were to find a massive library with thousands of selections, this would be a good choice.]
For purchasing music, I recommend Sheet Music Plus.com, where you can find all varieties of music.  Piano music of all levels is available for purchase.
The great thing about our digital age is that now you can connect to just about any library in the world.  If you are searching for a piece of music, some library in the world might have it.  I've found that the university library system provides some of the best music resources to anyone with a computer and an internet connection.  Not only should you not hesitate to use it, but you can have a lot of fun using it.
---
For a more complete understanding of how to build your piano-playing foundation,  read
For the most direct, organized, and progressive path to learning to play the piano, start
the Piano Skills Foundation series of piano lessons.
---
(Advertisement)

---
Music Library: Melodies For Two Hands

---
Burlesque in C (The "B" in S.A.C.B)
Burlesque (with chords, alberti bass, and walking octaves)
---
Mid-Elementary Piano Music
Minuet in G Minor, by J.S. Bach
Spinning Song, by Albert Elmenreich
---
Intermediate/Late-Intermediate Piano Music

---
Early-Advanced Piano Music
Sonata No.14 (Opus 27, no.2), 1st movement  -"Moonlight"-, by Beethoven
The Entertainer, by Scott Joplin
---
Christmas Music

---
More extensive music resources:
If you are searching for recordings or music transcriptions to play on the piano, you may be able to find what you are looking for with this link.  Here you will find tons of free music scores, as well as plenty of recordings so that you can hear the many of the pieces.  The search can be fun and educational, so visit this library, or university libraries often.
-click here for to go to the Petrucci Music Library-
---
---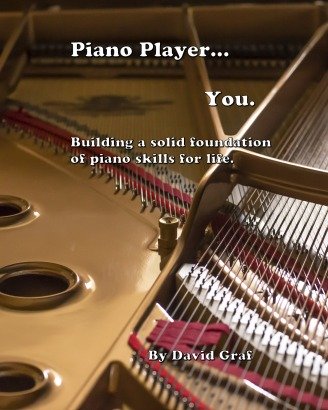 If you want to see a blueprint for a successful piano journey...


read

 


"Piano Player... You"
A guide to building a solid and complete piano-playing foundation.
-Click here to learn more about this e-book-
---
If you would like a step-by-step guide to help you on your piano journey...
start working through
"The Piano Skills Foundation" piano lessons
-Click here to learn more about this piano course-
---
---
---
Looking for some piano music?
I have found Sheet Music Plus to be a fantastic resource for piano books & other materials.  And they have instant digital downloads for thousands of individual pieces.
---
3 Ways To Support This Website
If you enjoy using true-piano-lessons.com and would like to help support it:
1. Buy the ebook, "Piano Player... You"
2. Purchase "Piano Skills Foundation"
3.Donation