The purpose of this website: helping you learn to play the piano.  Building a strong foundation of piano-playing skills will lead to a lifetime of piano-playing joy.
---
Piano Player... You
The e-book with a great overall plan for you and your piano-playing foundation
You can be a piano player capable of playing beautifully and confidently.  With time and practice, you can develop the skills you need to play any music you'd like to play.  Even high-level advanced piano music is attainable, given enough time and practice.  
There are no gimmicks or tricks to help you do it quickly.  The process of building a solid and complete foundation of piano skills and knowledge will take at least a few years.  But you will have a much better chance of success if you have a good idea of what the process entails.  This e-book is my attempt to give you a powerful understanding of the most important things you need to include in your piano journey.
---
A must read for the growing pianist: Piano Player... You.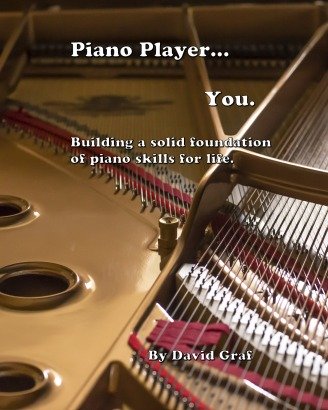 This e-book (pdf file) will give you a clear overall picture of the path you can take to become a confident and competent pianist.  It will serve as a guide for what you need to practice and how to practice it.  It is easy to read and understand, with no technical jargon, and will help and inspire you to grow into one who plays beautifully.
With the overall concept for your piano journey brought into focus by Piano Player... You, you will be able to say good-bye to frustration and aimless wandering. You will learn to play the piano. 
price: $10
Click here if you are interested in purchasing the e-book Piano Player... You
Introduction to Piano Player... You: a sneak peek
Before you decide to buy the e-book, go ahead and read the introduction.  It will give you a good idea of what the book is about and if it is really what you want.
-Click here to see the Introduction-
---
A guide to help you focus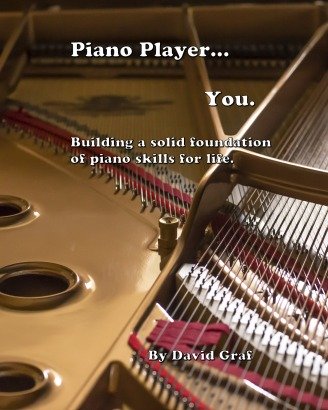 This book offers a vision of your piano journey as a whole, allowing you to see how every element fits in and how every moment spent at the piano can add to your piano-playing foundation.  With such a clear overall concept, you will have a much better chance to make your piano time effective and positive.  Whatever you decide to work on at the piano, you will understand how it adds to the set of skills you are trying to develop.
Knowing how the various piano skills and elements are related and work together, you will practice with purpose and without frustration.  Your time at the piano will always give you a sense of accomplishment and you will be happy doing all the little details you know that you need to make consistent progress.
Having a bird's-eye view of your piano journey as you get started is like having a map to always keep you from simply wandering.  Many pianists spend years just wandering around on the piano, without direction and a plan to focus their efforts.  With this book, you will instantly have a clear direction and see the path you should take to piano-playing excellence.
---
---
Return to "Free Piano Lessons"
---
Looking for some piano music?
I have found Sheet Music Plus to be a fantastic resource for piano books & other materials.  And they have instant digital downloads for thousands of individual pieces.
---
3 Ways To Support This Website
If you enjoy using true-piano-lessons.com and would like to help support it:
1. Buy the ebook, "Piano Player... You"
2. Purchase "Piano Skills Foundation"
3.Donation