The purpose of this website: helping you learn to play the piano.  Building a strong foundation of piano-playing skills will lead to a lifetime of piano-playing joy.
---
Canon In D: A Good Piece For The Piano Student
Pachelbel's "Canon In D" is not just a very popular tune. It has been arranged for a wide variety of instruments and groups of instruments.  Orchestras, bands, chamber groups, choirs... the famous canon works well in any arrangement and any setting.  For a single performer, though, the piano is probably the best choice (though and argument could be made for the organ).  
This piece provides an excellent study for the piano student. The variations offer helpful work in rhythms, melodic voicing, and harmonic progressions.
The transcription provided here is good for any pianist from mid-intermediate level up through advanced. The variations range from extremely easy to slightly difficult, with each variation adding to the diversity and interest of the piece.
This piece is simply a repeating chord progression which allows for an infinite number of variations, thus making it a nice piece for composition as well. Learn the chord progression first, and memorization will be easier.
The chord progression:
D   A   Bm   F#m   G   D   G   A.
In the version included here, the 14 phrases are the 14 variations. To learn it, you should work one phrase at a time. First, learn and memorize the right hand part, then the left hand part, and then put them together.
As demonstrated in the video, you should start very slow when you first put the hands together, and then work your way gradually up to faster tempos.
(In the video, I jump quickly from slow tempo, to medium, to fast. You should work up more gradually, advancing up the metronome dial one or two clicks at a time.)
As you learn each variation, you can start stringing them together until you can play the entire piece. Of course, the ultimate goal is to be able to play every variation smoothly, with a steady and flowing tempo. Since some of the variations are easier than others, it will be tempting to go faster on the easy ones, slower on the harder ones. So your best bet is to set your final tempo using the hardest variations. Over time, you will find that your piano skills will improve and you will be able to take tempos that originally might have seemed impossible.

Good Luck!!
---
For a more complete understanding of how to build your piano-playing foundation,  read
For the most direct, organized, and progressive path to learning to play the piano, start
the Piano Skills Foundation series of piano lessons.
---
(Advertisement)

---
Video Tutorial

---
Music Notation For Pachelbel Canon in D
---
More Information
For more information on the history of this music, click here.
---
---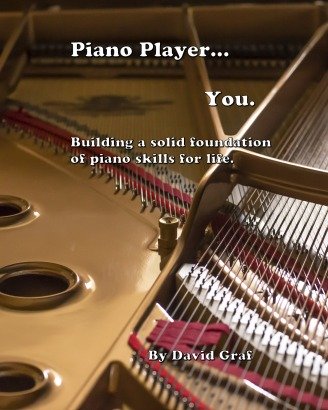 If you want to see a blueprint for a successful piano journey...


read

 


"Piano Player... You"
A guide to building a solid and complete piano-playing foundation.
-Click here to learn more about this e-book-
---
If you would like a step-by-step guide to help you on your piano journey...
start working through
"The Piano Skills Foundation" piano lessons
-Click here to learn more about this piano course-
---
---
Return from "Canon in D" to "Free Piano Lessons"
---
Looking for some piano music?
I have found Sheet Music Plus to be a fantastic resource for piano books & other materials.  And they have instant digital downloads for thousands of individual pieces.
---
3 Ways To Support This Website
If you enjoy using true-piano-lessons.com and would like to help support it:
1. Buy the ebook, "Piano Player... You"
2. Purchase "Piano Skills Foundation"
3.Donation