The purpose of this website: helping you learn to play the piano.  Building a strong foundation of piano-playing skills will lead to a lifetime of piano-playing joy.
---
Easy Piano Lessons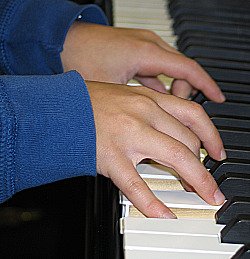 At the start, your easy piano lessons should consist mainly of getting your hands on the keys and beginning the process of building your keyboard awareness and finger awareness.  The idea that piano playing is easy is absurd. But that it can be accomplished through a long series of easy steps over an extended period of time is absolutely true.  If you start now, with these simple lessons, and then stick with it for many years, you will someday be able to play extremely difficult music as if it were easy.
So start here with a few "easy" piano lessons, and then hang in there with it for the next several years.  Along the way, you will add more and more complexity as your skills grow and as your piano playing foundation becomes more solid.  Never go faster than your development will allow.  Be patient and take it one step at a time.  You will start "easy", but you will achieve much more over time.
Right away, you can watch the videos below and get started on two areas of piano study ("tunes" & "exercises") that will get you playing and start you on the path to getting to know your piano and your fingers.  First, though, watch this video on how to sit and hold your hands on the keys, as this is what every piano player could use before playing anything.
After the first exercise and the first tune, you will find a link to a continuing path in each area.  Ultimately, you will want to add music reading and music learning & memorizing to your growing foundation of piano-playing skills. Easy piano lessons can be found these areas as well.  Approach each area with patience and a good attitude, and you will be able to build confidence and competence at the piano.
---
To get a perspective...

For the best approach to your piano journey, you could use an overall view of it to show you where you are headed and how to get there.  I tried to put the piano journey into an easy-to-understand and easy-to-see perspective in the ebook "Piano Player... You".  You may want to consider reading this book as you begin your own piano odyssey.  It will help you understand what you need to do and how you need to do it.
---
For a more complete understanding of how to build your piano-playing foundation,  read
For the most direct, organized, and progressive path to learning to play the piano, start
the Piano Skills Foundation series of piano lessons.
---
(Advertisement)

---
Easy Piano Lessons: Let's Get Started
An easy exercise:
An easy tune:
---
More easy exercises:
Now, to continue down the path of easy exercises, leading to Scales & Chords: click here.
---
More easy tunes:
To continue on to more easy tunes: click here.
---
An interesting perspective
For an interesting look at the world of piano pedagogy, click here.
---
---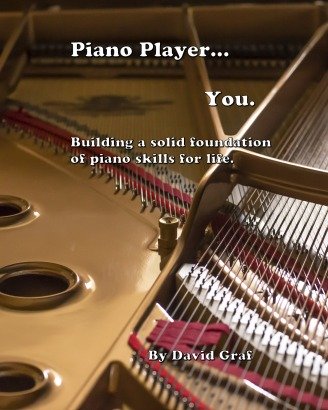 If you want to see a blueprint for a successful piano journey...


read

 


"Piano Player... You"
A guide to building a solid and complete piano-playing foundation.
-Click here to learn more about this e-book-
---
If you would like a step-by-step guide to help you on your piano journey...
start working through
"The Piano Skills Foundation" piano lessons
-Click here to learn more about this piano course-
---
---
Looking for some piano music?
I have found Sheet Music Plus to be a fantastic resource for piano books & other materials.  And they have instant digital downloads for thousands of individual pieces.
---
3 Ways To Support This Website
If you enjoy using true-piano-lessons.com and would like to help support it:
1. Buy the ebook, "Piano Player... You"
2. Purchase "Piano Skills Foundation"
3.Donation