The purpose of this website: helping you learn to play the piano.  Building a strong foundation of piano-playing skills will lead to a lifetime of piano-playing joy.
---
Begin Learning Piano Now!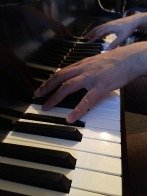 You can start learning piano right now.  Just make the decision and then start practicing. You are a piano player the moment you step onto the path of what I call the piano journey. The key to progressing, growing, building skills, and developing into a confident and competent piano player is to stay on the path... never give up. 
The path to learning piano is a long one, full of many details to learn and many skills to master.  But anyone who has the desire and motivation can do it.  You just need to make sure you are ready to enjoy every step.  If you are not prepared to find pleasure in the "small" things, the nitty-gritty details, you are likely to become overwhelmed with frustration and impatience.  
From the very beginning, be determined not only to accept the work but also to take pleasure in the work.  As a beginner, you cannot expect beautiful piano music to be flowing out of your piano any time soon.  That comes a little further down the path.  So enjoy the other things: teaching your fingers to play independently; developing "keyboard awareness" in your hands and in your mind; producing solid tone; a growing feel for the piano keys; learning new skills and knowledge; becoming a musician. 
Enjoy the journey, or you may loose the desire to continue on the journey.
Somewhere along the way, you may want to read "Piano Player... You", as it will give you a solid overall picture of your piano journey.  Many have already found it to be an excellent guide for their piano odyssey.
---
How to get started: Piano "Tunes"
The best way to start learning piano is to start playing.  I have assembled 17 familiar tunes for beginners to learn, arranging them in order of progressing difficulty (none of them are too difficult for a beginner).  With each tune you will find a video, piano tab (the notes and fingerings written for non-music readers), and the actual music notation.  Every tune is presented in 3 different keys (so the new pianist begins to learn how to move a tune to different positions on the piano).
Prior to learning these tunes, you will need some basic stuff first, so go through lessons 1-3 before tackling any of the rest:
"PRE"-LESSON 1: Piano Fingering, Piano Technique, Piano Posture 


LESSON 1: Know Your Keyboard, part one - the black notes 


LESSON 2: Know Your Keyboard, part two – the white notes
The "tunes":
Lesson 3: Mary Had A Little Lamb in C, F, & G 


Lesson 4: Twinkle, Twinkle Little Star in C, F, & G 


Lesson 5: When The Saints Go Marching In in C,F, & G 


Lesson 6: You Are My Sunshine in C,F, & G 


Lesson 7: Down In The Valley in C,F, & G 


Lesson 8: Frere Jacques in C,F, & G 


Lesson 9: Alouette in C,F, & G 


Lesson 10: Yankee Doodle in C,F, & G 


Lesson 11: The Water Is Wide in C,F, & G 


Lesson 12: Brahms Lullaby in C,F, & G 


Lesson 13: Home On The Range in C,F, & G 


Lesson 14: Danny Boy in C,F, & G 


Lesson 15: Amazing Grace in C,F, & G 


Lesson 16: Simple Gifts in C,F, & G 


Lesson 17: America the Beautiful in C,F, & G 


Lesson 18: The Star Spangled Banner in C,F, & G 


Lesson 19: Greensleeves in A-minor, D-minor, & E-minor
---
---
For a more complete understanding of how to build your piano-playing foundation,  read
For the most direct, organized, and progressive path to learning to play the piano, start
the Piano Skills Foundation series of piano lessons.
---
(Advertisement)

---
Exercises for learning piano:
-Click here for a series of simple exercises that will help you begin to develop some basic piano technique, keyboard awareness, and just a general feel for the keys.
---
Learning "Twinkle" and "Burlesque"
I use these two "tunes" more extensively as a part of exercises with my students.  They are excellent tools for the developing pianist: 
-click here for the "Twinkle" page.
-click here for the "Burlesque" page.
---
Eventually, Scales, Arpeggios, Cadence, & Burlesque
-click here to see where all of these exercises should lead-
---
Reading Music
-click here for ideas on learning to read music-
---
Extra Music Theory
-in case you are curious about the world of music theory-
---
---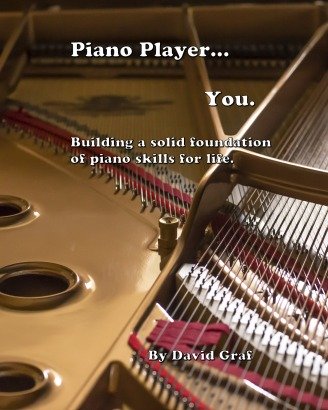 If you want to see a blueprint for a successful piano journey...


read

 


"Piano Player... You"
A guide to building a solid and complete piano-playing foundation.
-Click here to learn more about this e-book-
---
If you would like a step-by-step guide to help you on your piano journey...
start working through
"The Piano Skills Foundation" piano lessons
-Click here to learn more about this piano course-
---
---
Looking for some piano music?
I have found Sheet Music Plus to be a fantastic resource for piano books & other materials.  And they have instant digital downloads for thousands of individual pieces.
---
3 Ways To Support This Website
If you enjoy using true-piano-lessons.com and would like to help support it:
1. Buy the ebook, "Piano Player... You"
2. Purchase "Piano Skills Foundation"
3.Donation