The purpose of this website: helping you learn to play the piano.  Building a strong foundation of piano-playing skills will lead to a lifetime of piano-playing joy.
---
Beethoven's Moonlight Sonata (1st mvmt.)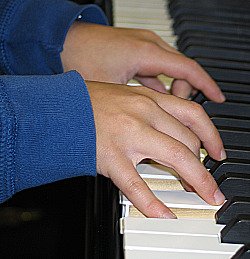 The first movement of Beethoven's Moonlight Sonata provides the piano student with an excellent study in memorizing by chords and harmony.  It consists almost entirely of rolling chords, with a beautiful melody floating above.  So not only do you get to strengthen your ability with chords, you also get to work on your ability to bring out individual melodic notes as you roll the chords... all in the same hand.  
It's called "voicing" the melody, which refers to making the melody sing out above all the other notes being played. By working on this skill in the Moonlight Sonata, you will be improving your piano playing in a way that will affect all the other piano pieces you play.  Making your melody sing out is a huge part of piano music, no matter what the style or genre.
In the video tutorials provided here, I'm trying to show you how to go about learning and memorizing the music at the same time.  To get the most out of the videos, print out the music and follow along carefully as you work your way through.  You will need to be constantly pausing the video so that you can work on playing whatever segment of the music you are shown.  It's up to you to do each part over and over again, as I do not take video time to show the tremendous number of repetitions that it takes to really learn every single part.
Also, in the videos you will hear me continually reminding you to go slow.  To keep the videos a decent length (I hope), I couldn't play everything as slow as you should be going when you are first learning the piece.  So keep in mind that the videos are designed simply to help you see the process.  It is up to you to take it slow enough to learn effectively.
Along those same lines (slowness), remember not to be in a hurry as you work through the videos.  Take your time and learn each section well before moving on to the next section.  The process of learning, memorizing, and mastering the entire piece should take you several months.  So go slow and enjoy the journey.
---
For a more complete understanding of how to build your piano-playing foundation,  read
For the most direct, organized, and progressive path to learning to play the piano, start
the Piano Skills Foundation series of piano lessons.
---
(Advertisement)

---
The music for Moonlight Sonata
-click here to see and print the music-
---
The Videos: 
Section 1 (Phrases ABCDE)
---
Section 2 (Phrases FGHI)
---
Section 3 (Phrases JKLM)
---
Section 4 (Phrases N & O)
---
More Information
-click here for more about the Moonlight Sonata-
---
---
---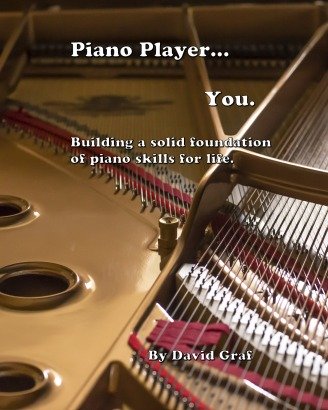 If you want to see a blueprint for a successful piano journey...


read

 


"Piano Player... You"
A guide to building a solid and complete piano-playing foundation.
-Click here to learn more about this e-book-
---
If you would like a step-by-step guide to help you on your piano journey...
start working through
"The Piano Skills Foundation" piano lessons
-Click here to learn more about this piano course-
---
---
Looking for some piano music?
I have found Sheet Music Plus to be a fantastic resource for piano books & other materials.  And they have instant digital downloads for thousands of individual pieces.
---
3 Ways To Support This Website
If you enjoy using true-piano-lessons.com and would like to help support it:
1. Buy the ebook, "Piano Player... You"
2. Purchase "Piano Skills Foundation"
3.Donation