The purpose of this website: helping you learn to play the piano.  Building a strong foundation of piano-playing skills will lead to a lifetime of piano-playing joy.
---
Octave Scales: An Important Part Of Your Piano-Playing Foundation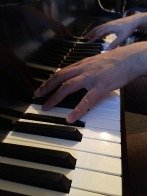 Learn to play octave scales and you will add a very important building-block to the foundation of your piano-playing skills.  You will find octaves written into countless piano pieces from the mid-intermediate levels up to the most advanced.  A major portion of advanced-level piano music, whether it's classical, jazz, ragtime, or rock and roll, requires the pianist to have a solid octave technique.  
One of the best ways to develop a solid octave technique is through playing scales in octaves.  You can begin working on your octave scales as soon as you know a few scales, starting with C Major.  You will need to start very slow, practicing hands-separately at first.  With time and persistence, your octaves will gradually grow more comfortable and confident.  You will be able to work towards faster tempos.
But do not be in a hurry.  Give your hands a long time (in years) to really get the feel for octaves before you try the faster tempos.  You need to build a technique that involves dropping the weight of your arms into the keys through your fingertips, while maintaining loose shoulders and arms.  At first, your hands may get tired, because they are not used to the stretch.  Over time, you will be able to build some endurance, as well as allowing your hands to become accustomed to the shape of the octave.
Your work on octave scales also helps with strengthening the images you have in your mind of each and every scale.  You cannot play a decent scale in octaves without having a solid mental image of that scale to guide you. Thus, regularly practicing your scales in octaves reinforces the building of those images into your mind, greatly improving your overall understanding and mental mastery of each scale.
So, as you devote yourself to working on scales in octaves, your technique is not the only thing receiving major benefits.  You are also enhancing your keyboard awareness and your ability to move around on the keys.  All of this will make you much more confident and capable as you approach the great piano music of the advanced levels.
---
For a more complete understanding of how to build your piano-playing foundation,  read
For the most direct, organized, and progressive path to learning to play the piano, start
the Piano Skills Foundation series of piano lessons.
---
(Advertisement)

---
---
Video: How To Play Octave Scales
---
More On Scales
Prior to delving into scales in octaves, make sure you have spent some time learning the basics.
-click here to go to the main Scales, Arpeggios, Cadence, & Burlesque page-
---
Even More On Scales
-click here for Wikipedia's scale information page (totally interesting)-
---
---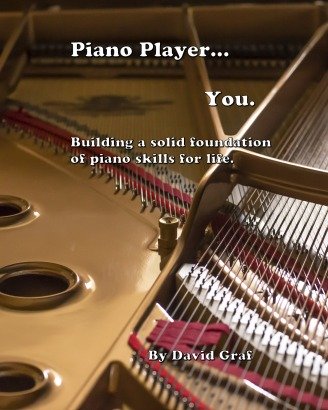 If you want to see a blueprint for a successful piano journey...


read

 


"Piano Player... You"
A guide to building a solid and complete piano-playing foundation.
-Click here to learn more about this e-book-
---
If you would like a step-by-step guide to help you on your piano journey...
start working through
"The Piano Skills Foundation" piano lessons
-Click here to learn more about this piano course-
---
---
Looking for some piano music?
I have found Sheet Music Plus to be a fantastic resource for piano books & other materials.  And they have instant digital downloads for thousands of individual pieces.
---
3 Ways To Support This Website
If you enjoy using true-piano-lessons.com and would like to help support it:
1. Buy the ebook, "Piano Player... You"
2. Purchase "Piano Skills Foundation"
3.Donation