The purpose of this website: helping you learn to play the piano.  Building a strong foundation of piano-playing skills will lead to a lifetime of piano-playing joy.
---
Piano Music
Piano music. If your piano-playing abilities have reached a fairly advanced level, you might find yourself filled with the desire to begin acquiring it. For advanced pianists, this is normal and healthy.
The gradual buildup of a piano music library not only provides the pianist with more and more options for practice and performance material, it is also a fun and worthwhile hobby in and of itself.
Through collecting and playing (most of us will collect much more music than we will ever be able to play in this lifetime) tons of great music, you learn and grow as a musician and as a music historian. Book lovers collect books; piano-music lovers collect piano music books.
Here, you will find a lists, divided into three groups. The first group lists the music considered by all serious classically trained pianists to be the bedrock of piano music… must-have & must-play (as much as one can).
The second group is more "classical" literature, much of which is considered by great pianists as "must-have" and "must-play", but by most amateur advanced pianists considered "must-have" and "occasionally-hope-to-find-time-to-play".
The third group is just one piano teacher's (mine) idea of fun music to have and to work on and to play.
All the music listed can be found at Sheet Music Plus.com (new window will always open), though you may also find much of it at your local music stores, if you prefer shopping the old-fashioned way.
If you are more interested in acquiring single pieces, or just individual songs/arrangements for piano, rather than books... Sheet Music Plus.com is still a great way to go.  Here's a search box, in case you want to just get searching now:
---
---
For a more complete understanding of how to build your piano-playing foundation,  read
For the most direct, organized, and progressive path to learning to play the piano, start
the Piano Skills Foundation series of piano lessons.
---
(Advertisement)

---
---
Piano Music Publishers
Vast amounts of music are produced by a dizzying array of publishers. So to simplify your search (if you want it simpler), I've listed two editions (for classical music) which I find reliable.
The two publishers listed here for individual books are Dover and Henle.
Dover editions are cheaper. The layout is sometimes a bit "crowded", but the music is readable and fairly reliable in its accuracy. In my experience, the bindings usually last well, but the books do not always stay open very easily, until broken in.
Often, Dover has the best collection of pieces within one book, therefore making it the best choice (as in its Debussy collection, or its Brahms collection).
Henle editions are the most expensive and for good reason. The layout is always beautiful, the paper is of very high quality, the bindings last, and the music is reliable (most always "urtext"). Henle editions tend to lay open better than music books by other publishers.
For the true music-bibliophile, many of the Henle editions are also available in "cloth" cover (essentially, hardcover). These, of course are the most expensive books (but worth it to some of us.)
A third publisher, Schirmer, is the cheapest, but also reliable and readable. Schirmer's library has perhaps the biggest selection, so is a good place to do some general shopping.
For piano music outside the classical realm, you generally have to go with whichever publisher has what you're looking for.
To just do some general piano music shopping within the libraries of the above-listed publishers, go to:

Because Henle editions are my favorite, I have listed all works with links specifically to Henle, unless unavailable by Henle. (Many works can be found in Henle's "cloth" edition as well, if you're interested. Just add the word "cloth" to the search box.)
If, however, you'd rather go with Dover or Schirmer, just use the same title and type in the publisher in the search box at Sheet Music Plus.com.
---
The Basic Classical "Must Have" Library:
J.S. Bach: The Well-Tempered Clavier (WTC) Book 1
J.S. Bach: The Well-Tempered Clavier (WTC) Book 2
Haydn: Sonatas (Vol. 1)
Haydn: Sonatas (Vol.2)
Haydn: Sonatas (Vol.3)
Mozart: Sonatas (Vol. 1)
Mozart: Sonatas (Vol. 2)
Beethoven: Sonatas (Vol. 1)
Beethoven: Sonatas (Vol. 2)
Schubert: Impromptus & Moments Musical
Schubert: Sonatas (Vol. 1)
Schubert: Sonatas (Vol. 2)
Chopin: Nocturnes
Chopin: Etudes
Mendelssohn: Songs Without Words
Liszt: Transcendental Etudes
Schumann: Piano Works (Vol. 1) -Dover edition-
Schumann: Piano Works (Vol. 2) -Dover edition-
Brahms: Piano Works
Rachmaninoff: Preludes & Etudes Tableaux -Dover-
Scriabin: Preludes & Etudes -Dover-
Debussy: Piano Works -Dover-
Debussy: Preludes I & II -Dover-
Ravel: Piano Works
---
More "Classical" Piano Music
For The Pianist's Library:

This list does not have direct links, as the previous list did. By now, you get the idea for how to shop and navigate Sheet Music Plus.com on your own. Thus, the list:
Dover: Albeniz piano works; Bach/Busoni transcriptions; Bach Keyboard Music; Bach/Liszt Transcriptions; Beethoven Variations; Brahms Sonatas & Variations; Chopin Ballades, Impromtus, Sonatas; Chopin Fantasy, Barcarolle, Berceuse...; Chopin Mazurkas; Chopin Nocturnes & Polonaises; Chopin Peludes & Etudes; Chopin Waltzes and Scherzos; Debussy Etudes, Children's Corner, Images; Granados Goyescas & Spanish Dances; Liszt Hungarian Rhapsodies; Liszt Mephisto Waltz & More; Mendelssohn Masterpieces.
Henle: Bach English Suites; Bach French Suites; Bach Goldberg Variations; Bach Inventions/Sinfonias; Bach Little Preludes and Fughettas; Bach Partitas; Brahms Sonatas, Scherzo, & Ballades; Chopin Mazurkas; Chopin Piano Pieces; Chopin Polonaises; Chopin Scherzos; Chopin Waltzes; Haydn Pieces, Variations; Liszt Annees de Pelerinage; Mozart Piano Pieces; Scarlatti Sonatas.
As you can see, the amount of great music is mind-boggling. And this is just the tip of the iceberg.
As you shop around, you will notice that the Dover and Schirmer editions often combine more groups of pieces, and are therefore more cost-effective.
---
Great "Non-classical" Piano Music For The Advanced Pianist:
The music outside of the classical genre is varied and vast. I've just included a little sampler to get you started:
Great Christian Music Arrangements:
The Best of Mark Hayes 1
The Best of Mark Hayes 2
Mark Hayes For The Intermediate Pianist
Some great Jazz & Ragtime:
William Bolcom: Complete Rags For Piano
Complete Joplin Rags
Jazz, Blues, Boogie, and Swing
---
Popular Music
Phillip Keveren's "The Beatles"
Phillip Keveren's "Andrew Lloyd Webber"
Phillip Keveren's "Broadway's Best"
Phillip Keveren's "Cinema Classics"
George Gershwin's Piano Transcriptions
"The Firm"

---
---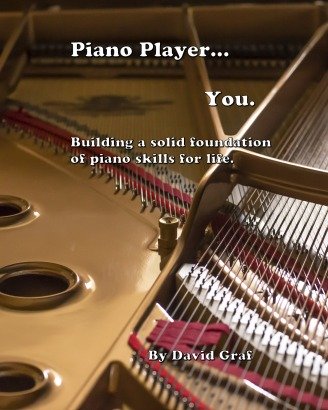 If you want to see a blueprint for a successful piano journey...


read

 


"Piano Player... You"
A guide to building a solid and complete piano-playing foundation.
-Click here to learn more about this e-book-
---
If you would like a step-by-step guide to help you on your piano journey...
start working through
"The Piano Skills Foundation" piano lessons
-Click here to learn more about this piano course-
---
---
Return from "Piano Music" to "Piano Music Books"

---
Looking for some piano music?
I have found Sheet Music Plus to be a fantastic resource for piano books & other materials.  And they have instant digital downloads for thousands of individual pieces.
---
3 Ways To Support This Website
If you enjoy using true-piano-lessons.com and would like to help support it:
1. Buy the ebook, "Piano Player... You"
2. Purchase "Piano Skills Foundation"
3.Donation