The purpose of this website: helping you learn to play the piano.  Building a strong foundation of piano-playing skills will lead to a lifetime of piano-playing joy.
---
The Entertainer: a fun (& effective) piece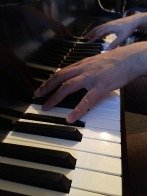 "The Entertainer" is an excellent piano piece for the early-advanced level pianist.  It provides great material for the piano player still learning how to memorize and learn music at the same time.  It divides very nicely into 2 & 4 measure links for practicing, and it uses some basic chord progressions that are good for support the memorization of the piece.
Rhythmically, "The Entertainer" offers a good study in syncopation and basic ragtime beats. The left hand patterns, bouncing back and forth, serve to develop the piano player's keyboard awareness, timing, and chord-finding ability. (Of course, this can be said for most ragtime piano pieces). 
The right hand part contains several fast-moving octave passages, making the piece an excellent workout for your octave technique.  Also, there's a bit of jumping around in the right hand, and chords to find quickly. Altogether, it's just an excellent study for the advancing pianist. 
Most importantly, this piece is fun to play (and popular, too).  Learn it at a very slow tempo, and then speed up over time.  It should never go extremely fast, and should be played with a certain amount of attention to the dynamic contrasts. 
The videos provided here should help you learn the piece, section-by-section, getting the the notes, rhythms, fingerings, and pedaling. After that, you should add your own vital musical shaping and ideas.  Subtle changes in dynamics, or slight alterations of pedal and other articulations, will help keep the piece interesting as every section repeats.
Play the piece with energy, keeping in mind the playfulness and shifting character from phrase to phrase, section to section.
---
For a more complete understanding of how to build your piano-playing foundation,  read
For the most direct, organized, and progressive path to learning to play the piano, start
the Piano Skills Foundation series of piano lessons.
---
(Advertisement)

---
The Music Notation

Print it and use it, following along with it as you use the videos
---
Using The Videos
Keep in mind that you will have to do lots of pausing of the videos while you work. Use the video to watch a part, and then pause it and work until you can play it yourself, by memory.  Then watch the next part, pause it, work on it, memorize it... you get the idea
The videos all demonstrate a method of systematically learning and memorizing a piece, two measures at a time, right hand, left hand, both.  Take your time and patiently learn it just one section at a time. Each section should take at least a week to learn and memorize.  Then, once you have all the sections learned, keep on working until it starts to flow.  Increase the tempo using your metronome as you continue to work in the same fashion.
Even after learning the entire piece you should still be practicing it in 2 & 4 measure links, right hand, left hand, both.  This is how you develop confidence in your memory and in your ability to play the piece.
Good luck, and have fun!
---
Section 1 video
---
Section 2 video
---
(Section 3 is just a repeat of Section 1, so... no video)
---
Section 4 video
---
Section 5 video
---
Interesting Information About "The Entertainer"
-click here for Wikipedia's interesting history of this tune-
---
---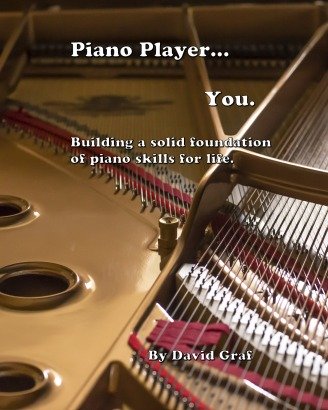 If you want to see a blueprint for a successful piano journey...


read

 


"Piano Player... You"
A guide to building a solid and complete piano-playing foundation.
-Click here to learn more about this e-book-
---
If you would like a step-by-step guide to help you on your piano journey...
start working through
"The Piano Skills Foundation" piano lessons
-Click here to learn more about this piano course-
---
---
Looking for some piano music?
I have found Sheet Music Plus to be a fantastic resource for piano books & other materials.  And they have instant digital downloads for thousands of individual pieces.
---
3 Ways To Support This Website
If you enjoy using true-piano-lessons.com and would like to help support it:
1. Buy the ebook, "Piano Player... You"
2. Purchase "Piano Skills Foundation"
3.Donation