Know Your Cadences
By learning your cadences, you will achieve quite a number of things for your piano-playing foundation. It will help you establish a greater "feel" for every key, as well as an understanding of how the primary chords relate within the key.  
Your hands will be learning the shapes of the chords, and your mind will develop images of the chords in every key.  This will benefit your ability to read music within each key, as well as memorize and improvise (if that's what you like to do.)  
Overall, knowing and mastering the I - IV - I - V - V7 - I progression for every major and minor scale will expand your keyboard awareness and your general confidence in your piano-playing skills.  With these chord progressions as a part of your daily routine, the keyboard will grow deeper and wider in your mind and in your hands, giving you a better grasp of how music fits on the piano keys and how compositions are built within the scales with which they are written.
Someday, you may begin to see your understanding of the chords leading to some of your own compositions at the piano.  A vast number of piano compositions revolve in and around these very chord progressions, and the more control you have of them (mentally & technically), the more you will find yourself inspired to try using them.
I usually have my students playing these as a part of  the S.A.C.B. exercise routine, but occasionally it helps to just go straight through the chords, just like you will see in the videos.  As you will see in the videos, you can start by teaching both hands to play the chords.  Then, you should learn to play them with the left hand providing "octave roots".  This will increase your understanding of the way chords work, as well as provide you with a more enjoyable sound as you play.  The octaves add a nice, deep tone to the sound of the chords and make the experience much more pleasing to the ears.
---
For a more complete understanding of how to build your piano-playing foundation,  read
For the most direct, organized, and progressive path to learning to play the piano, start
the Piano Skills Foundation series of piano lessons.
---
---
For the very beginner: A starter video tutorial 


If you are brand new at these chords, this video will help you get started in the key of C Major.  Watch the fingerings closely for each hand and then practice until you have them mastered.  Then, you will feel more ready to tackle the progressions in all the other keys.
---
All Major Keys
-click here for the music notation
-and here for the music notation of the progressions with octave roots-
---
Now, all minor keys
-click here for the music notation 
-and here for the music notation of the progressions with octave roots-
---
More About Cadences
-click here for a great "rundown" of the various kinds of cadences in music (Wikipedia)-
---
---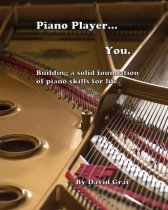 Serious about playing the piano?

Read

Piano Player... You
A guide to building a solid and complete piano-playing foundation.
-Click here to learn more about this e-book-
---
---
Looking for some piano music?
I have found Sheet Music Plus to be a fantastic resource for piano books & other materials.  And they have instant digital downloads for thousands of individual pieces.
---
---
Need A Metronome?
Here's the metronome I prefer to use for practicing the piano:

(Clicking on the picture will take you to the "Musician's Friend" website. A new window will open.)
---
3 Ways To Support This Website
If you enjoy using true-piano-lessons.com and would like to help support it:
1. Buy the ebook, "Piano Player... You"
2. Purchase "Piano Skills Foundation"
3.Donation