Piano Music Books

The world of piano music books has grown in the last 20 years to become one of fantastic resources. Piano music now exists for all levels, all styles, and all uses.
As with anything else, though, not all music books are equal. The sheer numbers of music volumes available means that wading in and finding high-quality books can be quite a task.
For someone looking for piano music books to fit their specific needs, the vastness of the resources can be daunting indeed. With little or no experience, finding the right music books for your situation might be an exercise in futility and frustration.
This web page is simply one piano teacher's guide to finding high quality materials for different situations. Having spent countless hours in music stores, reading and playing through huge amounts of piano music and teaching materials over the last 20 years, I have developed my own short list of high-quality teaching resources and music publications.
You do not have to take my suggestions as gospel, but if you need a place to start, all the books and music I list here have served me and my students well over the years.
This is not meant, in any way, to be a comprehensive listing of what is available. Rather, this is a narrow list designed to be a start for any newer teacher, or self-taught pianist, or just a piano-player looking for suggestions based on experience.
(To skip the critiques and go straight to the lists of piano music books in various categories, see "Piano Sheet Music" and "Piano Music" .)
All piano music books listed are available at Sheetmusicplus.com (new window will open), and links for every book are included. Know, however, that most of these books can also be found at your local music retailer, as well as other on-line music resources such as E-bay or Amazon.com.
If you would just like to do your own search... go for it! 
---
---
For a more complete understanding of how to build your piano-playing foundation,  read
For the most direct, organized, and progressive path to learning to play the piano, start
the Piano Skills Foundation series of piano lessons.
---
---
Piano music books:


Piano Teaching Methods
[Piano method books are best used for music reading exercises. For a complete discussion on the subject of Music Reading, see chapter 6 of Piano Player... You.]
For anyone teaching or learning piano, the first piano music books to look for are what we call "method" books.
I have experience with several piano teaching methods, including Alfred, Bastien, John Thompson, Noona, Faber & Faber, and others. All of these methods offer decent organization and progression of learning.
However, I have found the Hal Leonard Student Piano Library to be head-and-shoulders above the rest, for a variety of reasons.
First, the Hal Leonard method contains music by several different piano-teachers/composers. This means that the variety and quality of the music at every level is top notch. Most other methods are composed and compiled by just one or two individuals, leading to a somewhat monotonous string of same-sounding music. The Hal Leonard method mixes things up nicely, with different styles and compositions by teachers and composers with a variety of backgrounds.
Second, the progression of learning is well thought out and organized, and includes a tremendous amount of the details a pianist needs to learn, but spaced out in an easy-to-learn format.

Combined with some quality guidance from a teacher, and consistent quality practice, a student who starts at level 1 and works diligently through to the end of level 5, will find themselves with a solid foundation of music reading and playing skills, ready to move from a mid-to-late intermediate level into the ocean of advanced level piano music.
Third, the accompaniment CDs are of a tremendous quality, providing students with a fun ensemble playing experience as a reward for mastering each piece. Again, the variety of instrumentation and styles makes the accompaniments just as interesting as the music itself.
Fourth, the metronome markings for each piece give both student and teacher a tempo goal to shoot for, for the completion of each piece. This, along with the accompaniment CD at the same tempo (usually), is an invaluable thing in that it helps the teacher know how far to push the student before moving on to the next piece (a difficult element of piano teaching, especially for inexperienced teachers).
The Hal Leonard Student Piano Library contains plenty of fine supplemental material at each level, but I prefer to use just the "Piano Lessons", and the "Piano Solos". Thus, the following list:
Hal Leonard Student Piano Library
"Lessons" Books
This is the level for true beginners. It starts with "pre-reading" pieces, teaching keyboard geography, piano fingering, and basic rhythms. Near the middle of the book, the music staff (treble clef & bass clef) is introduced.
The pieces are as good as can be expected for this very beginning level, and the CDs make them more fun. Teachers will appreciate the fact that positioning on the keyboard varies, so that students don't get stuck in the "C" position rut.
I've had plenty of success using this level for beginners of all ages, preschool through adults.
This level gives the beginner a variety of pieces in a variety of starting positions. The student begins to learn how to play hands-together. Sharps and flats are introduced, and quarter notes, half notes, and whole notes (as well as corresponding rests) are continually reinforced.
Intervals are presented from 2nds through 5ths.
Again, the CDs make the beginner feel more musical and provide the achievable tempo for each and every piece.
In this level, the piano student really makes the move from beginner to intermediate player. The variety of music is good, and the hands move to a variety of positions within the pieces, and the hands play together most of the time.
Eighth note rhythms are introduced, as well as dotted quarters. Also, a connection between major and minor keys is developed.
The interval of a 6th is added, so the hand begins to stretch out of its 5-finger position.
As usual, the CDs and tempos are great.
In this level, the student receives plenty of reinforcement and development to make them a confidant intermediate player. Now, the pieces move around the keyboard, the hands stretch out more, the rhythmic variety is helpful, and the pieces are fun.
At this level, higher quality music should be expected from any method, and the Hal Leonard method does not disappoint.
Scales and triads are introduced, and key signatures.
By the end of this book, students feel that they are really playing (and they are).
A great final level for the series. This book does a great job of taking the piano student from the early intermediate level to the late intermediate level.
More scales, keys, rhythms (sixteenth notes are introduced), and very high quality music with plenty of variety.
Hal Leonard Student Piano Library
"Solos" Book
An excellent and necessary supplement to the "Lessons" book at this level.
An excellent and necessary supplement to the "Lessons" book at this level.
An excellent and necessary supplement to the "Lessons" book at this level. Pieces toward the end make good recital pieces.
An excellent and necessary supplement to the "Lessons" book at this level. Several really good recital pieces here.
An excellent and necessary supplement to the "Lessons" book at this level. More high quality compositions to complement the ones in the lessons book. Definitely some recital pieces in this book.
---
Supplemental Piano Music Books
For Students & Teachers
Along with a good piano method series, a teacher or student needs supplemental music to keep things interesting and to feed the musical appetite.
The following piano music books have been very useful and enjoyable for me and my students, providing fun pieces of music and plenty of crowd-pleasing performance opportunities.
Martha Mier
Martha Mier has a knack for writing music at all levels, and with a variety of styles, which sounds great and which students love. The pieces in her piano music books always give the piano student the feeling of legitimacy and confidence, because they are pieces of high quality and they are accessible to all students.
A good piano music book for the beginner with about 1 year of lessons, depending on age. These pieces are just pure fun for kids, and even provide adults with good material for working on memorization.
Popular pieces amongst my students: "Sunflower Boogie", "Rain Dance", "Ladybug Waltz".
A piano music book with great pieces for the beginner of 1 to 2 years. My students love "Hamster Chase", "Green Corn Dance", "Black Swan", "Little White Church", and "English Rose Gardens".
"Jazz, Rags, And Blues" Book 1
A good piano music book for beginners with at least 2 years of lessons, depending on age and ability. A good introduction to syncopated rhythms and swinging rhythms.
Student favorites: "Ragtime Do-Si-Do", "Just Struttin'", "Don't Wanna Leave You Blues", "The Ol' Rockin' Chair Blues", "Downright Happy Rag".
"Jazz, Rags, And Blues" Book 2
Good for early intermediate students. Easily the most popular level with my students.
Favorites: "Slippin' Around", "Beach Buggy Boogie", Wild Honeysuckle Rag", "Jelly Bean Rag", "Misty Night Blues".
"Jazz, Rags, And Blues" Book 3
A piano music book with more great Martha Mier writing, for mid-to-late intermediate players.
"Jazz, Rags, And Blues" Book 4
For the late intermediate pianist. Once a student has played a couple of these, they are ready for Joplin Rags, and other jazz transcriptions.
"Jazz, Rags, And Blues" Book 5
A piano music book for the late intermediate/advanced pianist. Once a student has played a couple of these, they are ready for Joplin Rags, and other even harder jazz transcriptions.

---
The Basic Classical "Must Have" Library:
J.S. Bach: The Well-Tempered Clavier (WTC) Book 1
J.S. Bach: The Well-Tempered Clavier (WTC) Book 2
Haydn: Sonatas (Vol. 1)
Haydn: Sonatas (Vol.2)
Haydn: Sonatas (Vol.3)
Mozart: Sonatas (Vol. 1)
Mozart: Sonatas (Vol. 2)
Beethoven: Sonatas (Vol. 1)
Beethoven: Sonatas (Vol. 2)
Schubert: Impromptus & Moments Musical
Schubert: Sonatas (Vol. 1)
Schubert: Sonatas (Vol. 2)
Chopin: Nocturnes
Chopin: Etudes
Mendelssohn: Songs Without Words
Liszt: Transcendental Etudes
Schumann: Piano Works (Vol. 1) -Dover edition-
Schumann: Piano Works (Vol. 2) -Dover edition-
Brahms: Piano Works
Rachmaninoff: Preludes & Etudes Tableaux -Dover-
Scriabin: Preludes & Etudes -Dover-
Debussy: Piano Works -Dover-
Debussy: Preludes I & II -Dover-
Ravel: Piano Works
More "Classical" Piano Music
For The Pianist's Library:
This list does not have direct links, as the previous list did. By now, you get the idea for how to shop and navigate Sheet Music Plus.com on your own. Thus, the list:
Dover: Albeniz piano works; Bach/Busoni transcriptions; Bach Keyboard Music; Bach/Liszt Transcriptions; Beethoven Variations; Brahms Sonatas & Variations; Chopin Ballades, Impromtus, Sonatas; Chopin Fantasy, Barcarolle, Berceuse...; Chopin Mazurkas; Chopin Nocturnes & Polonaises; Chopin Peludes & Etudes; Chopin Waltzes and Scherzos; Debussy Etudes, Children's Corner, Images; Granados Goyescas & Spanish Dances; Liszt Hungarian Rhapsodies; Liszt Mephisto Waltz & More; Mendelssohn Masterpieces.
Henle: Bach English Suites; Bach French Suites; Bach Goldberg Variations; Bach Inventions/Sinfonias; Bach Little Preludes and Fughettas; Bach Partitas; Brahms Sonatas, Scherzo, & Ballades; Chopin Mazurkas; Chopin Piano Pieces; Chopin Polonaises; Chopin Scherzos; Chopin Waltzes; Haydn Pieces, Variations; Liszt Annees de Pelerinage; Mozart Piano Pieces; Scarlatti Sonatas.
As you can see, the amount of great music is mind-boggling. And this is just the tip of the iceberg.
As you shop around, you will notice that the Dover and Schirmer editions often combine more groups of pieces, and are therefore more cost-effective.
---
Great "Non-classical" Piano Music For The Advanced Pianist:
The music outside of the classical genre is varied and vast. I've just included a little sampler to get you started:
Great Christian Music Arrangements:
The Best of Mark Hayes 1
The Best of Mark Hayes 2
Mark Hayes For The Intermediate Pianist
Some great Jazz & Ragtime:
William Bolcom: Complete Rags For Piano
Complete Joplin Rags
Jazz, Blues, Boogie, and Swing
Popular Music
Phillip Keveren's "The Beatles"
Phillip Keveren's "Andrew Lloyd Webber"
Phillip Keveren's "Broadway's Best"
Phillip Keveren's "Cinema Classics"
George Gershwin's Piano Transcriptions
"The Firm"


---
---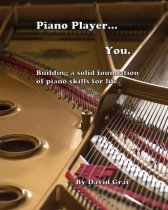 Serious about playing the piano?

Read

Piano Player... You
A guide to building a solid and complete piano-playing foundation.
-Click here to learn more about this e-book-
---
---
Return from "Piano Music Books" to "True Piano Lessons"
---
Looking for some piano music?
I have found Sheet Music Plus to be a fantastic resource for piano books & other materials.  And they have instant digital downloads for thousands of individual pieces.
---
---
Need A Metronome?
Here's the metronome I prefer to use for practicing the piano:

(Clicking on the picture will take you to the "Musician's Friend" website. A new window will open.)
---
3 Ways To Support This Website
If you enjoy using true-piano-lessons.com and would like to help support it:
1. Buy the ebook, "Piano Player... You"
2. Purchase "Piano Skills Foundation"
3.Donation