The purpose of this website: helping you learn to play the piano.  Building a strong foundation of piano-playing skills will lead to a lifetime of piano-playing joy.
---
To Learn A Piano Song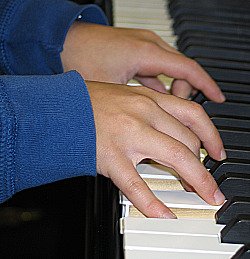 You can learn to play a piano song taking one of many possible paths.  For a complete novice, the first song on the piano is usually learned "by ear", sounding out a familiar tune on the keys.  If you are seriously considering learning to play the piano, it's really a great idea to go ahead an learn a bunch of tunes by ear, or by rote.  Eventually, you may learn to read music, and develop higher level piano-playing skills.  Then, you will be much less limited in what kind of piano music you are capable of learning and playing.
At this point, let's assume you are a beginner and you want to become a piano player.  Here you will find a list of simple piano songs to get you started on the piano.  Each one includes a picture of your starting position, the notes written in piano tablature (for those who do not yet read music), music notation (for those who want to see what it looks like, or who do read music), and a video demonstration.  
These piano songs all can be played in multiple keys, but are offered here in the keys of C-major, F-major, and G-major (with the exception songs in minor keys, in which case you get A-minor, D-minor, and E-minor).  Learning to play a single song in several keys is an outstanding way to develop your keyboard awareness, as well as your knowledge of the note names.
Follow the fingerings exactly as written on the music/tablature and as demonstrated in the videos.  This will help you become comfortable and automatic with piano fingerings.  We piano players have to know the piano-finger-numbers without even thinking. You can get there simply by learning many of these basic melodies with careful and focused attention on the fingerings.  Don't let your fingerings be random.
You will find a thorough discussion of just how learning tunes on the piano benefits you on your piano journey in Chapter 4 of Piano Player... You, which is the ebook in which I tried to lay out the path for a successful building of your foundation of piano playing skills.  
In the book, you will also find chapters on how to practice, the basic elements, scales & chords, music reading, and learning and memorizing music.  For your interest in piano songs, I've included links here to some pieces that fall into the category of "learning and memorizing" music.  Keep returning to this website in the future, as the number of piano songs  offered will continue to grow.
---
For a more complete understanding of how to build your piano-playing foundation,  read
For the most direct, organized, and progressive path to learning to play the piano, start
the Piano Skills Foundation series of piano lessons.
---
(Advertisement)

---
Learn a piano song, then another, and another...
Mary Had A Little Lamb in C, F, & G 


Twinkle, Twinkle Little Star in C, F, & G 


When The Saints Go Marching In in C,F, & G 


You Are My Sunshine in C,F, & G 


Down In The Valley in C,F, & G 


Frere Jacques in C,F, & G 


Alouette in C,F, & G 


Yankee Doodle in C,F, & G 


The Water Is Wide in C,F, & G 


Brahms Lullaby in C,F, & G 


Home On The Range in C,F, & G 


Danny Boy in C,F, & G 


Amazing Grace in C,F, & G 


Simple Gifts in C,F, & G 


 America the Beautiful in C,F, & G 


 The Star Spangled Banner in C,F, & G 


Greensleeves
---
A Tune for developing your skills: Burlesque
I have found this to be a great tune for use as a part of the following exercise routine: Scales, Arpgeggios, Cadences, and Burlesque
Burlesque (with chords, alberti bass, and walking octaves)
---
Mid-Elementary level piano music
The video here provides a prime example of how to learn and memorize a piece.
---
Intermediate/Late-Intermediate Piano Music
Here are a couple of popular intermediate pieces, with information on how to learn them.
Canon In D, by Johanne Pachelbel
---
Early-Advanced Piano Music
The "Moonlight" Sonata (1st movement), by Beethoven 
The Entertainer, by Scott Joplin
---
Some music theory
-click here for Wikipedia's excellent music theory page-
---
---
---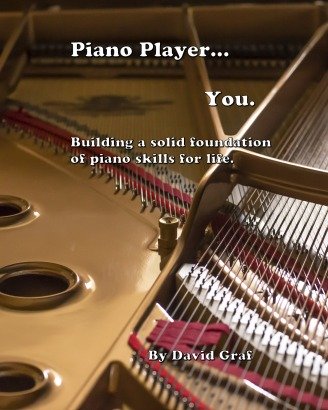 If you want to see a blueprint for a successful piano journey...


read

 


"Piano Player... You"
A guide to building a solid and complete piano-playing foundation.
-Click here to learn more about this e-book-
---
If you would like a step-by-step guide to help you on your piano journey...
start working through
"The Piano Skills Foundation" piano lessons
-Click here to learn more about this piano course-
---
---
Looking for some piano music?
I have found Sheet Music Plus to be a fantastic resource for piano books & other materials.  And they have instant digital downloads for thousands of individual pieces.
---
3 Ways To Support This Website
If you enjoy using true-piano-lessons.com and would like to help support it:
1. Buy the ebook, "Piano Player... You"
2. Purchase "Piano Skills Foundation"
3.Donation